GMDSS Service Updates #
Iridium GMDSS enhances safety at sea, offering reliable coverage where no other options exist. Scroll below for the latest details on various product and service approvals from regulatory bodies around the world.
As the Iridium Global Maritime Distress and Safety System (GMDSS) rolls out, Iridium expects the number of operational RCCs will be increasing. Iridium is regularly providing updates to mariners regarding the status of the RCCs connected to the Iridium GMDSS throughout the first year of operation. It is important to know that the addition of new RCCs and Iridium Connected® GMDSS terminals to the system will be done automatically as they come online.
As required under International Maritime Organization (IMO) Resolution A.1001 (25), a Recognised GMDSS Provider should be connected to at least one RCC. At launch, Iridium will be connected to five RCCs around the world, which is fully compliant with IMO regulations.
Users of the Iridium Connected GMDSS terminals should ensure that they regularly check with their equipment supplier and also for GMDSS Service Updates. Information is also available on the Iridium GMDSS website to ensure that users are up to date on any additions to the system.
This map shows the initial geographic areas of responsibility for the RCCs that have them. The dark blue represents the area for RCC Atlantic Area Command, the lighter blue is for RCC Pacific Area Command.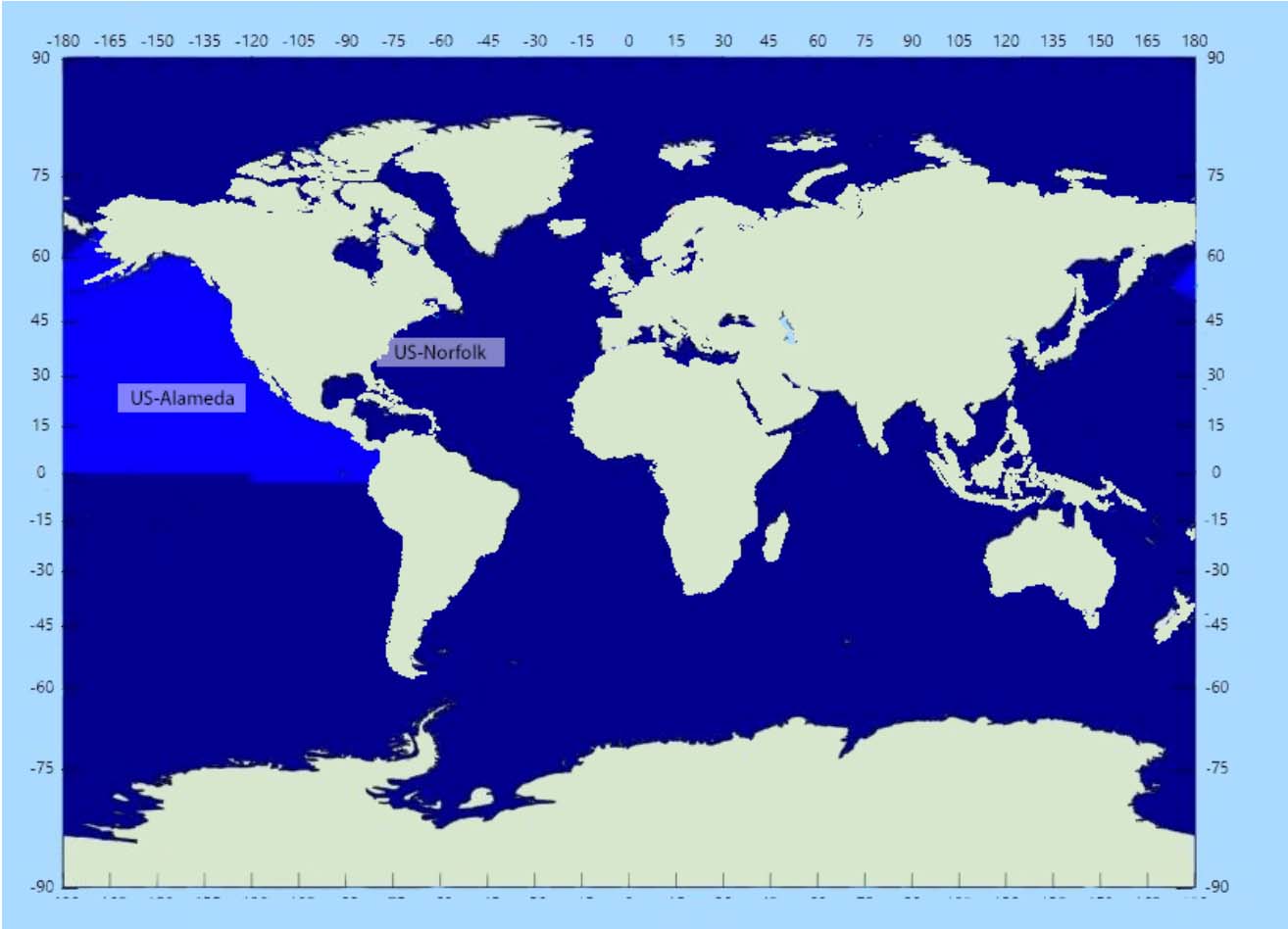 | | | |
| --- | --- | --- |
| Rescue Coordination Center | Mode | Operational |
| RCC Atlantic Area Command United States | Automatic | X |
| RCC Pacific Area Command United States | Automatic | X |
| RCC Fareham United Kingdom | Manual | X |
| RCC Stavanger Norway | Manual | X |
| RCC New Zealand New Zealand | Manual | X |
| RCC Australia Australia | Manual | X |
NOTE: RCCs throughout the world are all connected and routinely communicate to support and assist each other in Search and Rescue operations. For example, emergency communications from all over the world are routinely dealt with by the USCG RCCs who then work with a local RCC to deploy search-and-rescue (SAR) assets, regardless of the distressed vessel's location.
Automatic Mode – Iridium GMDSS equipment has the ability to select an RCC (for emergency communications) either automatically of manually. When in automatic mode the terminal will automatically select an RCC based on their geographic area of responsibility for the RCCs in the system.
Manual Mode – Some RCCs do not have a geographic area of responsibility. However, the user of the terminal can select any specific RCC (in the Iridium GMDSS) for the terminal to always communicate with (regardless of location of the terminal). So Manual mode will override the Automatic features of the terminal and will send emergency communications to the selected RCC by default. In the table below we list the initial RCCs that will be available for Manual Selection in the column title "Mode".
---
GMDSS Equipment
Type Approvals #
Lars Thrane LT-3100S Approvals
SOLAS vessel owners and operators who want to use Iridium GMDSS to comply with their GMDSS requirements need to ensure that the Iridium Connected equipment they are planning to use is Type Approved by their Flag State. Below is a list of Flag States and their equipment authorization status for the Lars Thrane LT-3100S, the first Iridium Connected GMDSS terminal. We continue to update this information as it becomes available, but vessel owners/operators should check with their Flag administration for the most up-to-date information, as we expect the number of Flag States approving this equipment to grow rapidly during the first year of operation.
For vessels that are not using Iridium GMDSS Equipment to comply with their SOLAS requirements (such as non-SOLAS vessels), Type Approval is not required.
---
Antigua & Barbuda*
Australia*
Bahamas
Belgium*
Bulgaria*
Canada
Croatia*
Cyprus*
Denmark*
Estonia*
Finland*
France*
Germany*
Greece*
Ireland*
Italy*
Latvia*
Liberia*/**
Lithuania*
Luxembourg*
Malta*
Marshall Islands
Netherlands*
Curacao*
New Zealand*
Norway*
Palau</l"i>
Poland*
Portugal*
Romania*
Spain*
Sweden*
Switzerland*
United Kingdom*
Bermuda*
British Virgin Islands*
Cayman Islands*
Gibraltar*
Isle of Man*
United States
* Approved under Marine Equipment Directive (MED).
** Terminal must be fitted through a Service Provider approved by the Liberian Flag.
---
Iridium SafetyCast
MSI Broadcast
Maritime Safety Information (MSI) is designed to keep mariners informed of dangerous conditions or circumstances that could endanger their safety. A global network of MSI providers regularly sends out MSI via NAVTEX (shore-based broadcast systems) and EGC (Enhanced Group Call, satellite-based broadcast systems) to assist mariners to avoid various dangers and stay aware of conditions. MSI comes in two main components: Navigational Information (I.e. failure of navigational lights or submerged obstruction in a shipping channel) and Meteorological Information (I.e. regular weather forecasts and warning information, including notification of major weather events).
The Iridium EGC service is called Iridium SafetyCastSM and is a broadcast system that can send out MSI to vessels to the entire world, no matter where there are on the earth's oceans. This is the first system to be able to do this and is free of charge to the vessel.
Other broadcast information that can be sent through the Iridium SafetyCast service includes the following Search and Rescue (RCCs), Anti-Piracy, and Ice Reports.
With a valid connection, a mariner's Iridium Connected GMDSS terminal receives information for new areas once the associated MSI providers commence broadcasting. Below is the status of the connection for each provider (by NAVAREA or METAREA) to the Iridium GMDSS.
*The Iridium network is capable of broadcasting MSI through Iridium SafetyCast to anywhere in the world. For METAREAS/NAVAREAS who have not yet opted into sharing data with Iridium, information may not be available at this time.
METAREAs
Area
Country
Attended Training Session
Completed Agreement
Sending Information to Iridium
(Operational or Test Data)
METAREA I
United Kingdom
✔
✔
✔
METAREA II
France
METAREA III
Greece
✔
✔
✔
METAREA IV
US
✔
✔
✔
METAREA V
Brazil
METAREA VI
Argentina
✔
✔
✔
METAREA VII
South Africa
✔
✔
METAREA VIII
India
Mauritius
METAREA IX
Pakistan
✔
✔
✔
METAREA X
Australia
✔
✔
✔
METAREA XI
Japan
✔
✔
✔
China
✔
✔
✔
METAREA XII
United States of America
✔
✔
✔
METAREA XIII
Russian Federation
✔
✔
METAREA XIV
New Zealand
✔
✔
✔
METAREA XV
Chile
✔
✔
✔
METAREA XVI
Peru
✔
✔
✔
METAREA XVII
Canada
✔
✔
✔
METAREA XVIII
Canada
✔
✔
✔
METAREA XIX
Norway
✔
✔
✔
METAREA XX
Russian Federation
✔
✔
METAREA XXI
Russian Federation
✔
✔
NAVAREAs
Area
Country
Attended Training Session
Completed Agreement
Sending Information to Iridium
(Operational or Test Data)
NAVAREA I
UK
✔
✔
✔
NAVAREA II
France
NAVAREA III
Spain
✔
✔
✔
NAVAREA IV
US
✔
✔
✔
NAVAREA V
Brazil
NAVAREA VI
Argentina
✔
✔
✔
NAVAREA VII
South Africa
✔
✔
NAVAREA VIII
India
NAVAREA IX
Pakistan
NAVAREA X
Australia
✔
✔
✔
NAVAREA XI
Japan
✔
✔
✔
NAVAREA XII
United States of America
✔
✔
✔
NAVAREA XIII
Russian Federation
✔
✔
✔
NAVAREA XIV
New Zealand
✔
✔
✔
NAVAREA XV
Chile
✔
✔
NAVAREA XVI
Peru
✔
✔
✔
NAVAREA XVII
Canada
✔
✔
✔
NAVAREA XVIII
Canada
✔
✔
✔
NAVAREA XIX
Norway
✔
✔
✔
NAVAREA XX
Russian Federation
✔
✔
✔
NAVAREA XXI
Russian Federation
✔
✔
✔
References
GMDSS service updates. (n.d.). Retrieved December 03, 2021, from https://www.iridium.com/gmdss-service-updates/