Globalstar Sat-Fi2 Quick Start Guide
#
The Globalstar Sat-Fi2 Quick Start Guide assists you in getting your device up and connected so you can communicate outside of cellular networks. If you would like your own copies to refer to while offline please feel free to download them below. We have also included a video for your perusal as well and if you have any questions whatsoever please contact Apollo SatCom anytime day or night.

Activation
#
NOTE: For initial setup, a home/business Wi-Fi Internet connection will be required to complete Step 1 through Step 3 and email configuration.
PRODUCT REQUIRES ACTIVE SUBSCRIPTION: In order to begin using your Globalstar Sat-Fi2, please make sure you have an active subscription. If you do not have an active subscription or encounter issues with your device, please feel free to contact us: Apollo SatCom Contact Info.
Mobile Directory Number (MDN), and ICCID
#
In order to activate your Sat-Fi2 and register your Globalstar My Account profile, you will need to have access to the ICCID number, which can be found on the bottom of your Sat-Fi2. Your MDN (telephone number) will be assigned to you during activation.
Step 1: Charge Your Sat-Fi2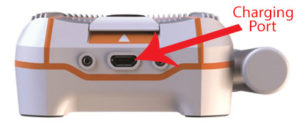 Connect the Micro USB Data/Power Cable to the Sat-Fi2 USB port and AC adapter. Then connect the AC Adapter to a power source.
Step 2: Register Your Account
1. To register your account, open the Welcome to Globalstar email from [email protected] and click on "Register Now".
2. Follow the on-screen instructions to register your account.
3. Record your account login information for use in Step 3 of the "Setting up the Sat-Fi2 App".
Step 3: Setting up the Sat-Fi2 App

1. On your iOS or Android device, download and install the Sat-Fi2 App from either the Apple App Store or Google Play Store.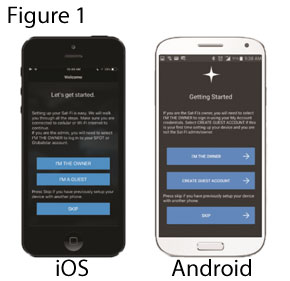 2. Ensure your device has a LTE or Wi-Fi connection and open the Sat-Fi2 App. The App will require the downloading of internal applications necessary for setup. Do not close the Sat-Fi2 App during this process.

3. A "Getting Started" screen will be displayed. Start the configuration process by selecting "I'm the Owner" and follow the on-screen instructions (Figure 1). This step will require your Sat-Fi2 My Account login information.

Wi-Fi and Password Information
Default Sat-Fi Wi-Fi name: satfi2_ <xxxxxx> (where xxxxxx is the last 6 digits of the ICCID)

Default Wi-Fi Password: satfi1234

Default admin password: admin
NOTE: A new firmware update may be available upon activation. It is recommended to check for any available firmware updates. Feel free to check for your current firmware here: Current Firmware

STEP 4: Test the Sat-Fi2 Connection – Make a satellite call to test and confirm the Sat-Fi2 system is configured and operational.
1. With your device fully charged, go outside where Sat-Fi2 has a 360° clear view of the sky with no obstructions (buildings, trees, etc.) and power on the Sat-Fi2 (see Figure 2 below). Ensure co-located antenna is fully extended in an upright position (see Figure 3 in the upper right column).
NOTE: The Sat-Fi2 can take up to 3 to 5 minutes to power on, boot up, and start establishing a satellite/gateway connection. The Satellite LED will blink RED until the smart device is connected to the Sat-Fi2 via Wi-Fi and the Sat-Fi2 is registered with a gateway.
2. Open the Sat-Fi2 App and verify that both the 

and 

icons are displayed on the Status Bar. If the icons are not displayed you may not have a clear view of the sky.
3. In the Application Menu select

.
4. Enter the telephone number you wish to call, or choose a contact, and select

.
Figure 2
#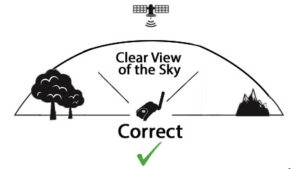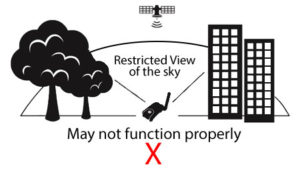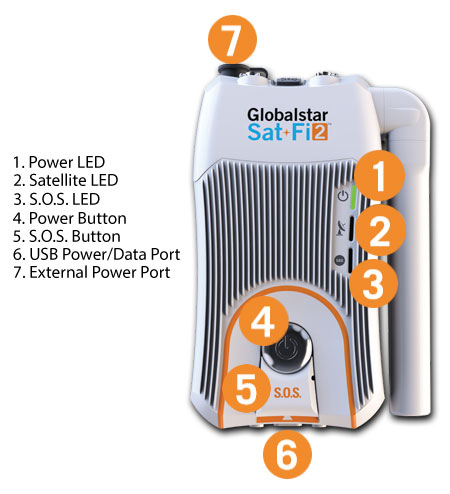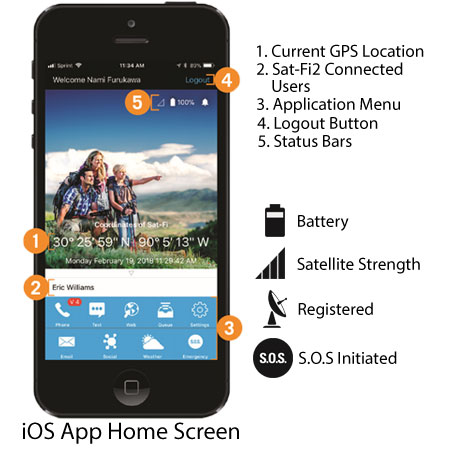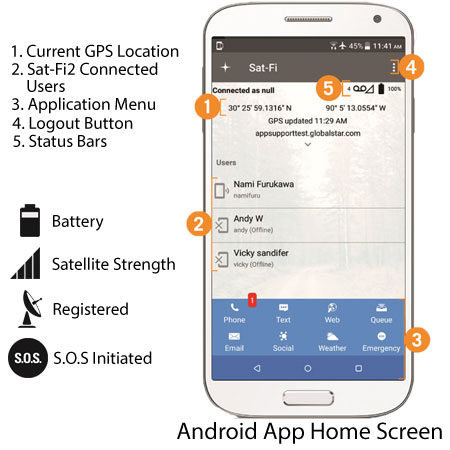 Additional Globalstar Sat-Fi2 Support
#
For more information on how to access your personal email, send an S.O.S., set up social media, check the weather, browse the web, check your voicemail and more detailed information on how to use your Globalstar Sat-Fi2, please contact Apollo SatCom: Apollo SatCom Contact Info.