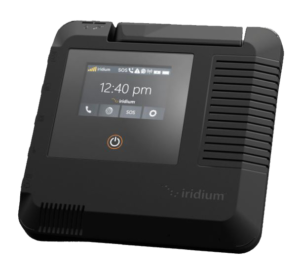 A Smart Companion for Your Smart Devices
A mobile wireless access point for laptops and smartphones is called an the Iridium GO Exec. It is supported by the Iridium Certus 100 midband service and offers simultaneous access to two high-quality phone lines for calls to friends, family, and coworkers. It also offers Wi-Fi connectivity for a few messaging, email, social media, weather, and light web surfing apps.
The Iridium GO Exec combines the advantages of a battery-operated Wi-Fi access point with the built-in capabilities of an Iridium satellite phone to provide portable personal and office connectivity. The built-in speakerphone and microphone on Iridium GO Exec allow users to make phone calls directly, or they can connect wirelessly from their smartphone to the gadget within a range of up to 30 meters (100 feet) to make calls and browse the Internet.
For consumers that demand mobile communications with voice and IP access, the Iridium GO Exec is appropriate. It allows users freedom in both work and personal situations because it may be used in stationary settings like an NGO camp site or movable environments like a yacht. Communications are expanded to a wide range of markets using Iridium GO executive.
Markets #
Travel & Leisure

Recreational Marine

NGO & Humanitarian

Scientific Research

Remote Industry

General Aviation
Features #
Modern, compact, portable design with color touchscreen

Up to 22 Kbps Transmit / Up to 88 Kbps Receive

Built-in secure Wi-Fi connectivity

Multi-user access for up to two voice calls or multiple data

connections simultaneously

Built-in speakerphone & microphone functionality

Dual USB-C, ethernet & external antenna / GPS ports

Standard apps with open connection or app / web filtering

Easy setup & use with no pointing required; power on &

connect just by raising the antenna

Operate from fixed or mobile location with omni-directional

connectivity

Quickly connect to the internet with a built-in connection

manager for session controls & pre-configured filtering

options to help manage airtime usage

Register for 24/7 SOS monitoring & support from 3rd

party emergency response coordination center (IERCC)