Version

24

Download

147.82 KB

File Size

1

File Count

April 21, 2017

Create Date

April 21, 2017

Last Updated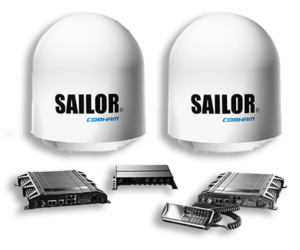 The SAILOR Fleet Broadband 500 Dual Antenna Solution Brochure is an informational brochure for the Fleet Broadband 500 Dual Antenna setup which is designed for vessels and platforms with demanding requirements for connectivity. It meets the critical needs for voice and data communication of maritime and offshore professionals globally but despite its power, is a compact, lightweight solution. With this dual antenna setup you can always rest assured that you will be connected effectively turning you ship into a global communications powerhouse.
When your SAILOR 500 FleetBroadband antenna cannot obtain full line-of-sight to the satellites because of blocking objects on board your vessel, the new Dual Antenna Solution keeps you connected. It maintains full line-of-sight to the satellites with a combination of two SAILOR 500 FleetBroadband solutions installed at different locations and a SAILOR FleetBroadband Dual Antenna Control Unit (DACU).
If you happen to need more information or have further questions on other products, services, or support please do not hesitate to call Apollo SatCom at anytime at +1 (844) 248-0123. We are here 24/7 for all of your global communications needs!
Download
| File | Action |
| --- | --- |
| SAILOR 500 FleetBroadband Dual Antenna Solution Brochure.pdf | Download |