Free Shipping Every Day!
Usually, if the items in your order total $1000 or more, your order ships FREE!
*US Domestic Standard Shipping Only.
Apollo Satcom Warranty Policy
Typically we process and ship your order within 24 to 48 hours from the invoice date. Exceptions include Friday orders which if they miss our cutoff time will not ship until Monday or Tuesday. We do not fulfill orders on the weekends. If we have any issue with your order (this can range from inventory discrepancies to payment issues) we will notify you as soon as possible by email and Phone in order to clear the issue and ship the order as quickly as possible. In the event we are unable to contact you regarding your order to clear up any issue, we will hold your order until we hear from you. In the case of credit card purchases that are flagged we will require you to fill out an additional Credit Card Authorization (CCA) form that we will email to you. Once we receive your CCA form back we will then process and ship your order. After your order has been processed and shipped out, you will receive the tracking information for your shipment in your email . Orders placed on the weekend or on a holiday will be processed the next immediate business day.
Flat-Rate Shipping
We offer flat rate ground shipping for all products shipping within the Continental United States. These shipments typically are sent via FedEx Ground, but we reserve the right to use alternative shipping methods and partners to get the package to your location.
The above times are the approximate shipping arrivals from our San Diego, CA warehouse via FedEx Domestic Ground. This map is to be used for estimation and is in no way a guarantee of shipping arrival time. Please note that our shipping time estimates are based on business days.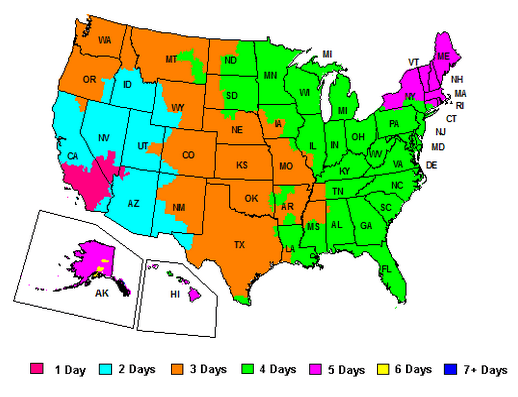 International Shipping
Apollo Satcom offers International shipping to nearly every country in the world via FedEx Express International & USPS International Priority. We understand the costs associated with international shipping are high, but we must account for customs tax, duty, and long range air shipping expenses (fuel, handling, etc.).
We also now ship directly to Canada via FedEx International Ground. The importer is responsible for all import taxes, customs duty, or any other fees associated with transportation beyond US borders. Any orders returned due to declined customs duty, tax, or other fees will be cancelled and transaction, less the cost of international shipping, will be reversed.
Please read International Returns/Exchange Policy for full details.
Tracking
An email will be will sent to you confirming that the package has been shipped along with a tracking number. To review your tracking number again simply log in to your Apollo account > Review orders / Track packages.
To get transit times for your shipment, enter your tracking information in one of these pages:
Questions/Issues
Need immediate assistance with your order? Talk to us on Live Chat from Monday through Friday, 9:00am – 5:00pm PT: Click Chat Button at bottom right of any page on our site.
Please use the Submit A Request option when Live Chat is not available, and a Sales / Service Representative will be able to assist you with your questions.
If you have any other questions about shipping, tracking, or international availability, feel free to chat with one of our support agents in real time by using our live chat in the bottom right of the page. You can also view and open a ticket at our support portal if we aren't available to chat.