As per the satellite phone ban issued by Government of India, foreigners on tourist visas are not allowed to carry satellite phones to India.
The Indian Embassy in Abu Dhabi has warned tourists to India against carrying satellite phones since their satellite phone ban, following some cases of violation reported from the country.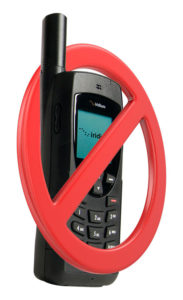 "As per the guidelines issued by Government of India, foreigners on tourist visas are not allowed to carry satellite phones to India. Therefore, it is requested that the foreigners intending to visit India should not carry satellite phones with them while traveling to India," the mission said in a media statement issued on Monday.
When contacted, the Indian Ambassador to the UAE. T. P. Seetharam told Khaleej Times the advisory has been issued as a reminder since some people have been still carrying such satellite communication devices to India in violation of the rules set from their satellite phone ban.
"Despite the ban, some people are still carrying such devices to India and getting stopped at the airports. Some may be doing it because they don't know the rules.This is only a reminder to tell people about the ban and the possible inconveniences they will face for violations."
However, he did not have details of the recent cases involving tourists from the UAE with the satellite phone ban.
Since satellite phones bypass the local telecom system, it is difficult for agencies concerned to track conversations over them. The Indian authorities confiscate such devices if they do not have special permits and hold the carriers legally responsible for the breach of the law. The rules were tightened after the 26/11 attacks in Mumbai as the terrorists were found to have used satellite phones to avoid being tracked by government agencies.
Previous Warning
In June 2013, the Ministry of Foreign Affairs had issued a similar satellite phone ban to UAE nationals traveling to India asking them to not enter the country carrying any satellite communication devices, such as Thuraya and Iridium.
Ambassador Eisa Abdullah Masoud Al Kalbani, the director of the Department of Nationals' Affairs at the UAE Foreign Affairs Ministry, had then stated that the Indian Government had banned the use of satellite communication devices on Indian soil, and subjected individuals in possession of said devices to legal accountability.
"The satellite phone ban applies to both holder of the device and recipient if, for example, devices are sent through the postal or similar service,"
"The satellite phone ban comes under Section 6 of the Indian Wireless Act and Section 20 of the Indian Telegraph Act. Indian authorities have stated that the ban also applies to Indian waters even if landfall is not made."
The ambassador had added that the warning from the Ministry of Foreign Affairs stemmed from its duty to provide all necessary advice and warnings to protect UAE nationals from violations, accidental or otherwise, or of being subjected to security accountability or any troubles or hindrances they might encounter abroad.
References
Saseendran, S. (2016, February 29). Satellite phone ban warning to visitors to India. Retrieved October 17, 2018, from https://www.khaleejtimes.com/nation/general/satellite-phone-ban-warning-to-visitors-to-india