Iridium GO Adventurer Package will keep your phone ready to go when you are.
Never worry about expiring prepaid minutes and expiration dates. With the Iridium GO Adventurer Package you have Unlimited Data and 250 voice minutes included with your monthly package. Add on rollover to your package to never lose the minutes you do not use. Postpaid Service with NO Hidden Cost!
Calling Rates & Fees
Airtime Features
Data Rates

Free Incoming Direct Calls

$1.05 / Min Iridium-Fixed Voice

$0.69 / Min Iridium -> Iridium

$1.40 / Min 2 Stage Dialing

$1.50 / Min +1 Access Service

$8.75 / Min Other Sat Networks

UNLIMITED DATA

250 Voice Minutes
UNLIMITED SMS / Text
Worldwide Coverage
FREE Voicemail
FREE Caller ID

UNLIMITED DATA

UNLIMITED SMS/TEXT

$0.89 Iridium to RUDICs

$1.09 Iridium -> Iridium Data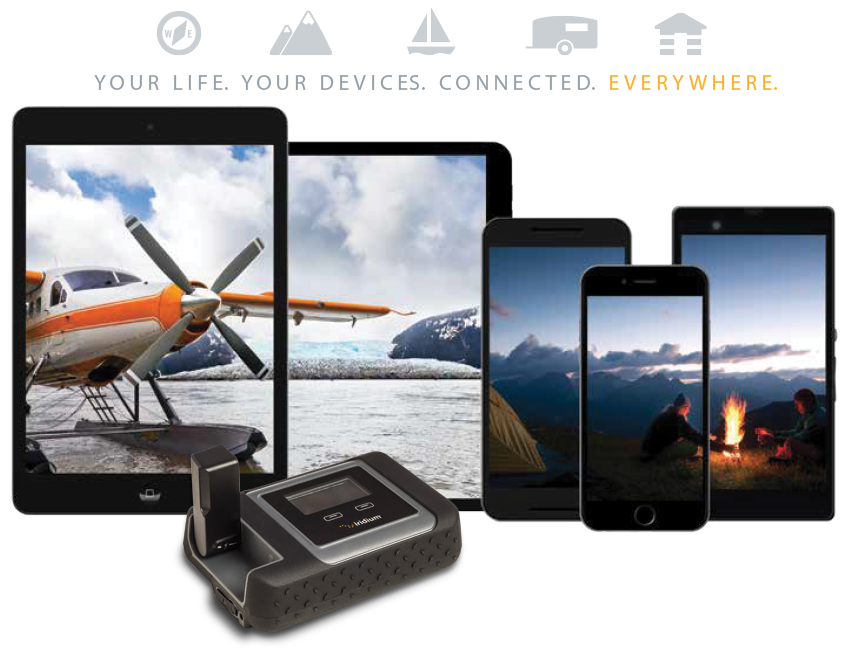 Iridium GO Adventurer Package Details
Plan pricing and usage will be billed monthly.

12 month minimum signed service agreement is required & emailed upon purchase.

All plans are activated at the time of purchase unless requested otherwise.

This package is on available for use with Iridium GO! Satellite Hotspots Only.

Calls are billed in 1 minute increments.

Voicemail calls are considered outgoing calls

Phone rates are to any standard landline (PSTN) or cell phone worldwide.

Incoming direct dial international calls are free, but the calling parties are charged by their long distance phone provider at satellite telephone rates.

On the Iridium GO Adventurer a US based forwarding number is provided at no additional charge.

Called Two-Stage Dialing, callers to the satellite phone would dial 1 (480) 768-2500, and then enter the satellite phone number when prompted.

Callers charged domestic US calls to area code 480 (Arizona), while the satellite phone holder is billed $1.50 per min (Two-Stage Incoming Rate).

Included monthly minutes do not roll over, unless rollover is added to the package. More Info on Rollover

If Rollover is Added, unused minutes rollover for the entire life of the initial contract.

All unused minutes are forfeited upon cancellation of service.

Rollover minutes are relinquished when a plan is downgraded.

Rollover minutes transfer to new service if the service plan is greater than or equal to the existing plan.

If service is cancelled, the SIM card will be permanently disabled.

Incoming calls are FREE if dialed directly (please be advised that the individual calling will incur international calling rates).

Calls that are received via 2 stage dialing or via the satellite phones USA phone number will be debited from the satellite hotspot's rate plan.

Dialing directly to local phone numbers are available to many other countries at an additional cost. More Info on +1 Dialing #'s
Calls to other satellite networks (i.e.; Inmarsat, Thuraya, Globalstar) are billed at ~$9.00 per minute. Full call cost breakdown

Additional Iridium GO Adventurer Package Information
An Iridium GO! Satellite Hotspot with the Iridium GO Adventurer Package allows you to keep in touch with family, friends and co-workers from remote areas. It can provide essential communication in an Emergency. Most importantly, it gives you the peace of mind that you can always make that essential call if you should need to.

Your Satellite Hotspot with the Iridium GO Adventurer Package can operate from anywhere in the world. It even works when the regular cellular networks are down. Simply extend the antenna of the phone in an area with a clear open view to the sky and have confidence that you will be able to make and receive calls and keep in touch effortlessly in any situation.

Iridium GO! Satellite Hotspot with the Iridium Adventurer Package has global coverage. It will operate anywhere in the world – even in remote areas. It is ideal for use in areas where there is little or no cellular coverage such as in the mountains or out at sea. It will even operate in the North and South Poles and it will work when the regular cellular networks are down!

Wherever you are traveling, an Iridium GO! Satellite Hotspot is for you. Please be aware, however, that to make and receive calls on the Iridium GO! Hotspot, you must have a clear line of sight to the sky. Your Iridium GO! cannot operate indoors, or close to tall trees or buildings. Basically, the more sky that you can see, the better the signal strength you will get.

Iridium GO Satellite Hotspots are used around the world on leisure and adventure trips; it is used on remote hunting and fishing tours, for expeditions and treks the world over, on sea vessels and cruise ships, and in many more remote destinations around the world.

An Iridium GO! Satellite Hotspot is also used for emergency preparedness and disaster recovery missions. And using the Iridium GO Adventurer makes this very affordable.

Wherever it is a new or used Iridium GO Satellite Hotspot, they give valuable peace of mind allowing users to keep in touch with friends, family and co-workers.

Complete Iridium GO! Information and Tutorials: www.GetIridiumGO.com

Iridium GO Adventurer Package Contract Terms
With the Iridium GO Adventurer Package Included minutes may only be used to call cell phones, landlines and other Iridium satellite phones. Calls to other satellite networks will be billed at market rates.

Iridium Service Plan & SIM are not active until account setup is completed.

The Iridium GO Adventurer Package requires a 12 month minimum contract, renewing month to month thereafter. When you sign up for service you will be charged a prorated amount for the first month (prorated amount is based on the number of days till the end of the month) + the second month of your service package if not activated on the 1st of the month. 

Early termination fee is the [Month Service Package Cost + $100.00] per line.

30 Day Cancellation Policy. A written notification is required via email or hand written and mailed to Apollo SatCom – View Contact & Address Information

All calls are billed in 1 minute increments. 

Rollover option accrues unused minutes up to a 36 Month Cap. Damage insurance may only be added at the time of purchase of a new phone, not after equipment has been received. Our monthly damage insurance covers all damage excluding loss, theft, water damage and/or intentional damage. Any part of the phone that is damaged or broken is covered.

Upon checkout you will be provided with a service agreement for the Iridium Adventurer Package which can be completed electronically. We do require a completed service agreement signed and returned to us to complete activation before shipment.

This Iridium post-paid contract has a minimum 12 month term, please note that although the first month's fee is pro-rated, the last month's fee is not pro-rated and is payable in full.