AERO AT130-6 Aviation Transponder
The aero-dynamic design ensures an excellent omni-directional pattern over the entire 960-1220 MHz band. This lightweight, high-speed, all metal antenna is suitable for installation on all piston, turboprop, and turbine airframes including Air Transport Category aircraft.
---
A high-quality omni-directional transponder from AERO that is a perfect solution for aviation.
---
AERO Transponder Blueprint:

Connector – Type C Female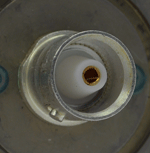 Features
Omni-directional Transponder
Aviation Transponder